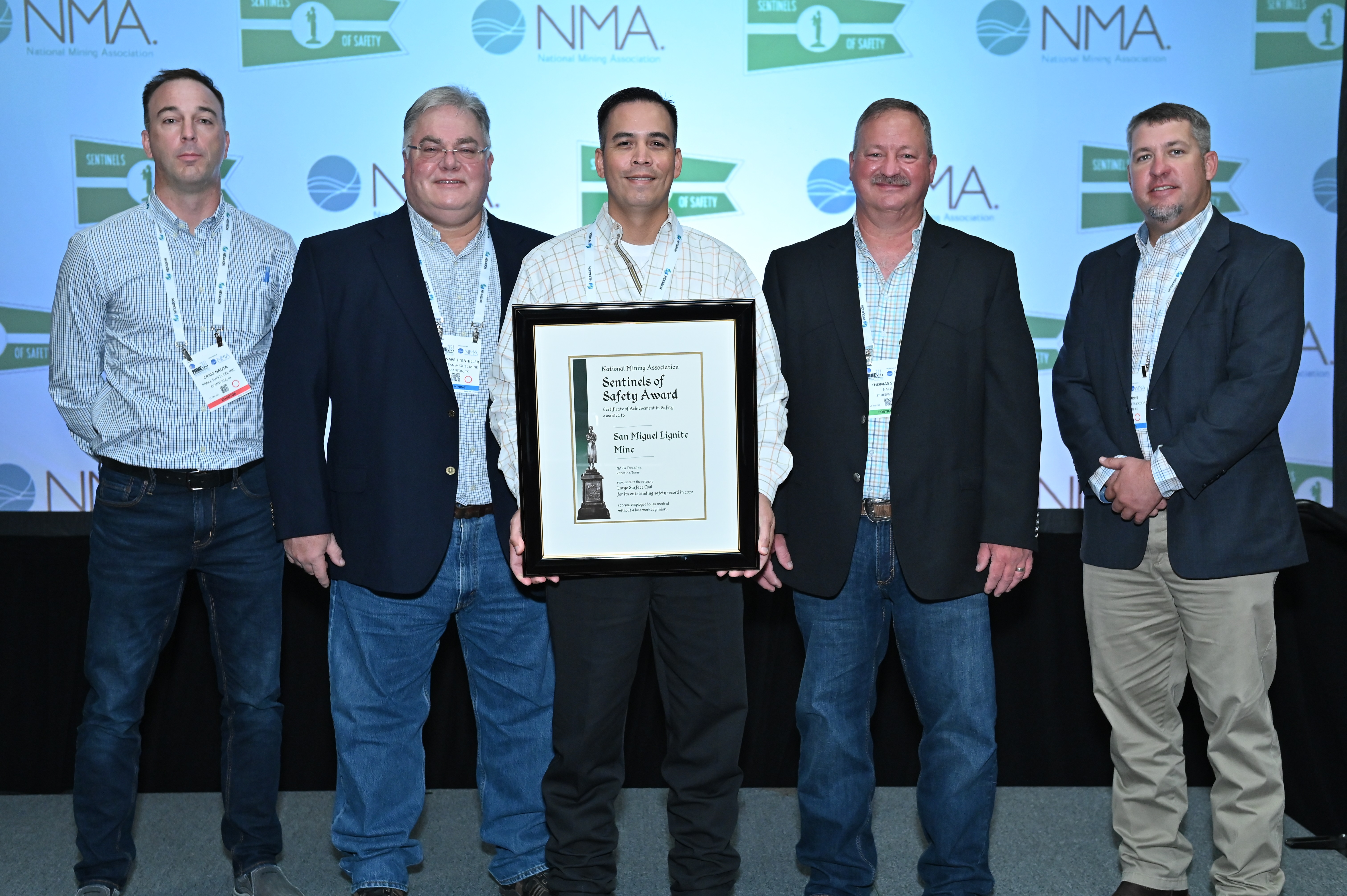 San Miguel Lignite Mine Receives Prestigious National Safety Award
from the National Mining Association
CHRISTINE, Texas [October 27, 2021] – The San Miguel Lignite Mine (SMLM), which is owned by San Miguel Electric Cooperative, Inc. (SMEC), has received a prestigious national mining award for achieving 470,304 employee hours worked without a lost workday injury at its lignite mine in Christine, Texas.
The National Mining Association (NMA) awarded its 2020 Sentinels of Safety Award to SMLM for its "outstanding safety performance" in the Large Surface Coal group. "We applaud your company's dedication to the safety of our most important resource – the nation's miners," said NMA President & CEO Rich Nolan.
The award was presented to the mine operator, North American Construction Group Ltd. (NACG), on Sept. 14 at NMA's MINExpo INTERNATIONAL® 2021 at the Las Vegas Convention Center.
"We are very pleased to be recognized for the safety performance at our mine," said SMEC General Manager/CEO Nathan Brown. "Our team works hard every day to provide electric power to the Texas grid, while at the same time protecting the environment, as well as one of our greatest resources: our people."
SMEC's lignite mine provides fuel for its power plant, which produces 391 megawatts of affordable, reliable electricity for nine member cooperatives across 45 South Texas counties.
"It is an honor to receive this prestigious national award from the National Mining Association," said Mine Manager Tom Shaw. "To achieve more than 470,000 hours without a lost workday injury demonstrates the dedication of San Miguel to the ideals of safety, performance and the stewardship of our employees."
# # #
About San Miguel Electric Cooperative
The San Miguel Electric Cooperative, Inc. is a member-owned mining and power generation cooperative that serves the people of Texas' rural communities, working and living in partnership with its members. Through integrity, hard work and a commitment to safety, San Miguel maintains a dependable power supply at the lowest possible and competitive cost. Visit San Miguel Electric Cooperative for more information.