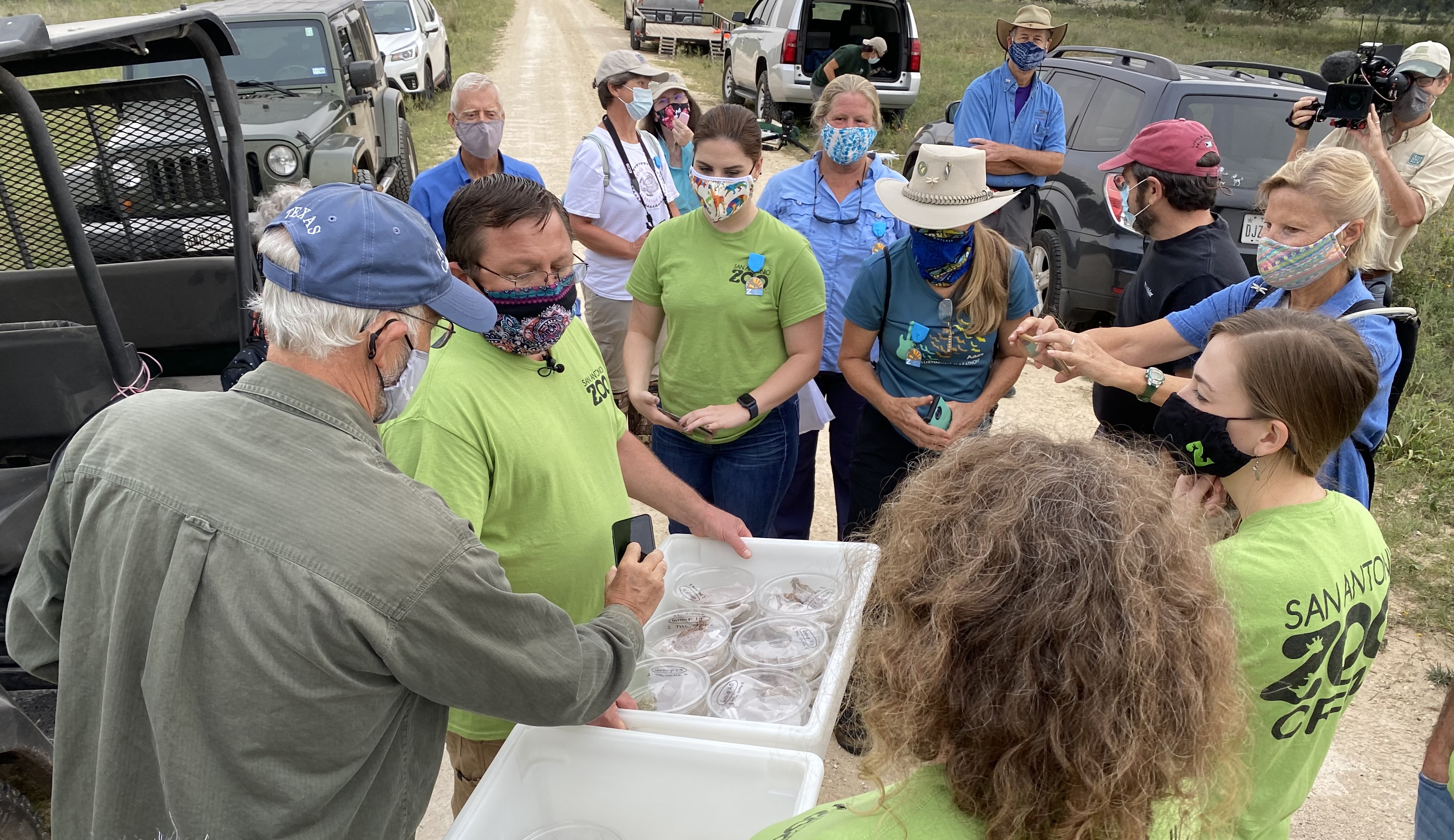 CHRISTINE, Texas [October 27, 2020] – San Antonio Zoo this month took one more step to realizing its dream of bringing back one of the state's most iconic characters – the Texas horned lizard. Commonly referred to as the "horny toad," the Phrynosoma cornutum population has declined or disappeared in many places in Texas since the late 1960s.
Thanks to supporting organizations like San Miguel Electric Cooperative (SMEC), on Oct. 9 and 16 San Antonio Zoo's Center for Conservation and Research released 84 "horny toads" ranging in age from four months to three years onto a 275-acre patch of a private ranch in Blanco County. The goal is to help the lizards make a comeback in central Texas, where much of their habitat has been compromised due to a number of factors, including fragmentation and habitat loss, introduction of exotic grasses, pesticide use and the proliferation of red imported fire ants.
Ants are central to the program's success: there are those that will be beneficial to the reintroduction, and others that will endanger the project. "Fire ants feed on the lizard's eggs so we have had to eradicate some of these mounds on that section of the ranch," says Dr. Andrew Gluesenkamp, director of conservation at San Antonio Zoo. "But harvester ants – which provide the lizards with food – support their viability." To keep track of the ants, the Zoo has GPS coordinates for each of the 80-100 harvester ant mounds.
| | |
| --- | --- |
| | "Restoring this beloved lizard to a healthy population is a very worthy project and one that we are pleased to support," says David Burris, PE, SMEC fuels manager. "It is emblematic of San Miguel Electric Cooperative's approach to the environment, which is to ensure that land is sustainable for future generations, as we provide 42 South Texas counties with an affordable, dependable power supply to fuel their homes and businesses." |
Because detection of lizards using traditional trapping or visual surveys is not very effective and typically detects fewer than 10 percent of lizards, San Antonio Zoo is using trained "sniffer dogs" to track site assessment, pre- and post-release management and population monitoring. In partnership with Chiron K9, a canine training company (pronounced Shy-ron), it is embarking on a pilot lizard detection canine project. Dogs can detect live horned lizards, as well as their eggshells, shed skin and scat pellets.
A Dutch Shepherd named Gren was the first to get out onto the ranch a week after the lizards were released. "Gren did very well recognizing the lizards and is gaining more and more experience," says Gluesenkamp. "She is part of our program to use rescue dogs, train them and then later place them in forever homes with volunteers."
To establish the lizard population, the Zoo has created a "lizard factory," a climate-controlled, bio secure facility that houses a colony of three dozen breeder lizards. It has plans to double this capacity by building an additional "lizard lounge" in a 40-foot shipping container.
"We could not do this without the support of organizations like the San Miguel Electric Cooperative," said Gluesenkamp, citing SMEC's "dedication to native species and commitment to conservation" as critical components to preserving and protecting native biodiversity in South Texas.
# # #
About San Miguel Electric Cooperative
The San Miguel Electric Cooperative, Inc. is a member-owned mining and power generation cooperative that serves the people of Texas' rural communities, working and living in partnership with its members. Through integrity, hard work and a commitment to safety, San Miguel maintains a dependable power supply at the lowest possible and competitive cost. Visit San Miguel Electric Cooperative for more information.
About San Antonio Zoo
San Antonio Zoo®, operated by San Antonio Zoological Society, is a non-profit organization committed to securing a future for wildlife. Through its passion and expertise in animal care, conservation and education, the zoo's mission is to inspire its community to love, engage with, act for and protect animals and the places they live. The zoo welcomes more than a million visitors each year and is open year-round. San Antonio Zoo operates the largest nature-based preschool in the country, Will Smith Zoo School, the Center for Conservation and Research and Kiddie Park. San Antonio Zoo is accredited by the Association of Zoos and Aquariums, the Zoological Association of America and Humane Certified by American Humane.
Website www.sazoo.org
Facebook www.facebook.com/SanAntonioZoo
Twitter www.twitter.com/SanAntonioZoo
Instagram www.instagram.com/SanAntonioZoo
About Center for Conservation and Research
The Center for Conservation and Research at San Antonio Zoo® is operated by San Antonio Zoological Society, a non-profit organization committed to securing a future for wildlife through a variety of approaches, including fieldwork, scientific study and husbandry of rare, threatened and endangered species. The center is located on the grounds of San Antonio Zoo and leads or participates in conservation projects across the globe and throughout the United States, with particular emphasis on Texas. Notable projects include the Texas Horned Lizard Reintroduction Project, Mexican Blindcat Conservation Program, Reticulated Flatwood Salamander Project, Georgia Blind Salamander Project, Project Selva in the Peruvian Amazon and studies on organisms directly beneath San Antonio (focused on Edwards Aquifer species, such as the Texas blind salamander).
Website www.sazoo.org/conservation
Facebook www.facebook.com/CenterForConservationAndResearch
Twitter www.twitter.com/SanAntonioZoo