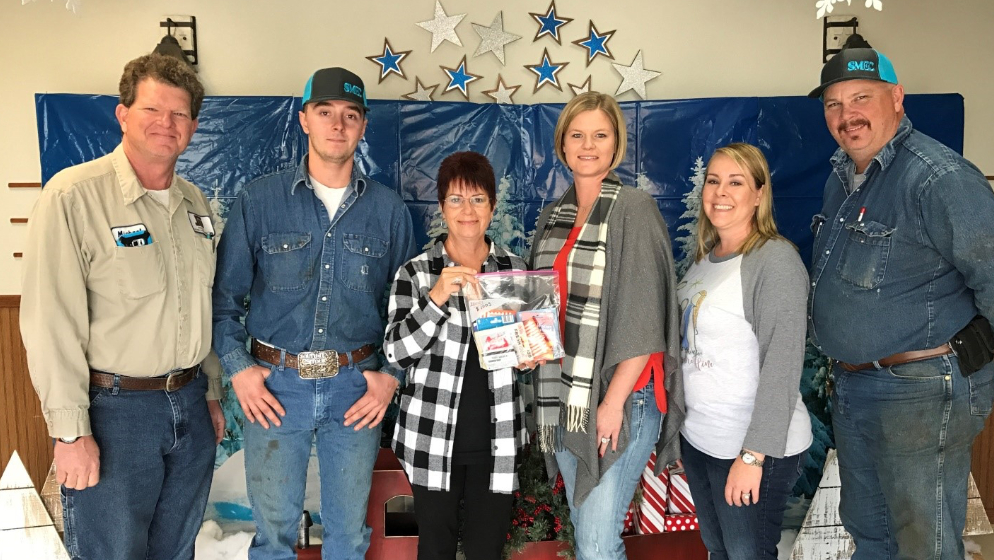 San Miguel Electric Cooperative Gives Back to South Texas through Donations, Volunteering
CHRISTINE, Texas [Dec. 19, 2018] – San Miguel Electric Cooperative (SMEC) has awarded almost $13,000 in donations and volunteer time to South Texas community organizations as part of its 2018 charitable giving program.
Each year the electric cooperative donates up to $1,000 to individual charities in its service region, which includes Atascosa and McMullen counties. Qualifying organizations must be located in and provided services to people in this area. Organizations also must be officially classified as a nonprofit organization, social welfare organization or a business league.
"We believe in supporting the communities in which we operate," said Mike Kezar, SMEC general manager. "Working hard every day to make a difference in our community is a priority for our company because we not only work in these communities, but we also live there."
The beneficiaries of SMEC's 2018 charitable giving program include:
Jamie's Ranch for Special Kids
Wounded Warriors
The Texas Ramp Project
Atascosa County Child Welfare Board
Pleasanton Volunteer Fire Department
Jourdanton Volunteer Fire Department
Poteet Volunteer Fire Department
Christine Volunteer Fire Department
Campbellton Volunteer Fire Department
SMEC also participates in CoBank's "Sharing Success" program. CoBank matches contributions made by its customers to the charitable organizations of its choice. As a participating member of the program, SMEC makes up to three donations, which range from $1,000 to $5,000 each year, to nonprofit organizations in Atascosa and McMullen counties, with CoBank matching the donations.
SMEC made $2,500 donations to the following organizations in 2018 as part of this program. These donations were then matched by CoBank.
Atascosa County Family Crisis Center
South Texas Court Appointed Special Advocates (CASA)
In addition, SMEC collected gift card contributions from its employees this December to benefit the Atascosa County Child Welfare Board, which assists in providing welfare services for children and their families. Employees donated more than $1,008 in gift cards to support the community organization. SMEC employees also have volunteered their time at The Texas Ramp Project, Wounded Warriors and Jamie's Ranch.