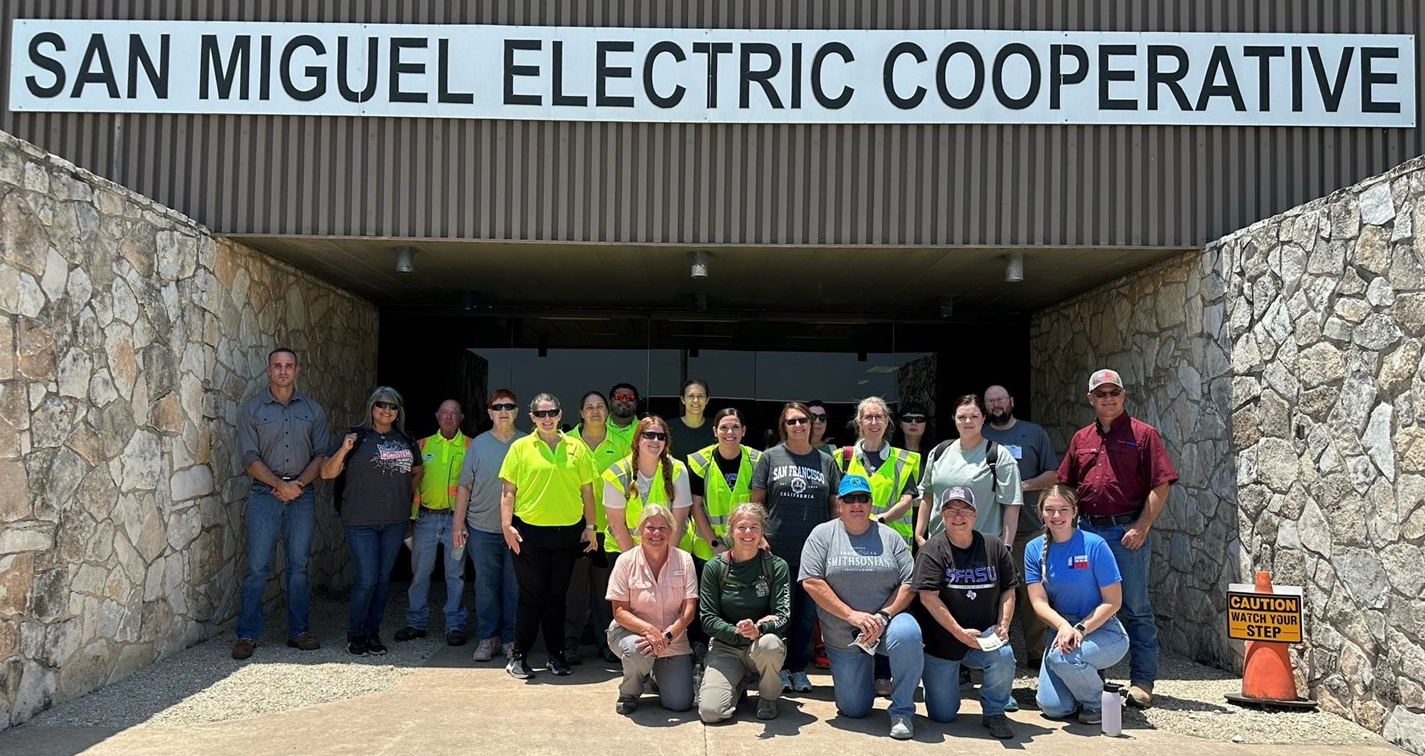 San Miguel Electric Cooperative, Inc. Educates the Educators at TMRA's
Unique and Award-winning Teacher Workshop
CHRISTINE, Texas [June 27, 2023] – Building aquifers, flumes and earth-science cross sections may remind you of your early school days, but at one South Texas mine last week, it was par for the course for a group of adults. From June 18 - 23, 18 science educators attended the Texas Mining & Reclamation Association's (TMRA) week-long Teacher Workshop program at San Miguel Electric Cooperative, Inc. (SMECI) to learn the true story of Texas mining.
Each summer, elementary, middle/junior high and high school science teachers attend educational camps (this is one of five across the state) to learn about Texas' proud history of lignite, uranium and industrial minerals mining to fuel the Texas energy grid and provide the state's essential infrastructure materials.
The workshops, which are free, are designed to help teachers bring back real-world, problem-solving activities to their students that encourage them to use critical thinking skills. As part of the program, teachers took a hard hat tour of the San Miguel lignite mine, saw San Miguel's reclamation areas and soil pits first-hand and participated in hands-on labs in the classroom. They also had the opportunity to collect coal samples from an active mine pit.
"The lignite we mine at San Miguel is an integral part of the energy that feeds the Texas grid to keep us all safe, warm and cool throughout the year," said SMECI General Manager/CEO Craig Courter. "By the time these science teachers leave here, they have a solid foundation of how that coal is mined, and how post-mining, we reclaim the land to its natural state. We are honored to host these educators every summer to tell the true story of Texas mining."
Through TMRA's Teacher Workshops, more than 1.5 million students have now heard the true story of Texas mining and reclamation. The program is recognized by the Governor's Conference on Math, Science and Technology, and is certified by the Texas Environmental Education Advisory Council. It is designated a professional development provider by the State Board of Education Certification.
Located in Christine, Texas, SMECI produces 391 net megawatts of affordable, reliable electricity for nine member cooperatives across 47 South Texas counties.
# # #
About San Miguel Electric Cooperative, Inc.
The San Miguel Electric Cooperative, Inc. is a member-owned mining and power generation cooperative that serves the people of Texas' rural communities, working and living in partnership with its members. Through integrity, hard work and a commitment to safety, San Miguel maintains a dependable power supply at the lowest possible and competitive cost. Visit San Miguel Electric Cooperative, Inc. for more information.