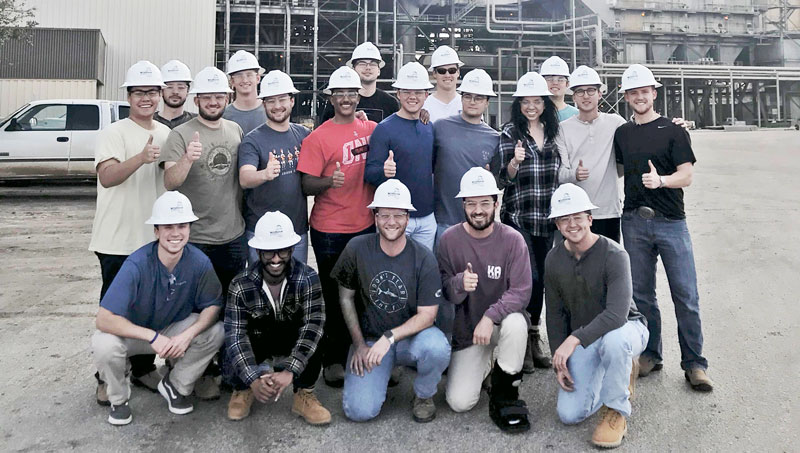 CHRISTINE, Texas [Jan. 10, 2019] – San Miguel Electric Cooperative (SMEC) gave Texas A&M University business students a firsthand look at the contributions made by coal power plants and lignite mines to the state's energy supply as they visited SMEC's facilities on Jan. 9.
Students of the Texas A&M Mays School of Business Trading, Risk, & Investments Program toured San Miguel's power plant and mine to become familiar with energy production and transmission in Texas. They spent their time learning the stages of generating electricity from lignite coal, including mining to generating then to the restoration of disturbed areas to their natural state post-mining.
"We enjoyed having the students visit and see what we do and how we do it," said Mike Kezar, SMEC general manager. "We take great pride in providing much-needed electricity to rural communities and doing so in a way that minimizes environmental impacts and serves as a model for conscientious environmental leadership."
The power plant and its nearby lignite mine produce 391 megawatts of affordable, reliable electricity for nine member cooperatives across 42 South Texas counties. As a small, rural and member-owned organization, SMEC provides a reliable source of power to hundreds of thousands of Texans, ensuring the stability of a well-functioning power grid and supporting the agricultural economy of South Texas.
According to the Texas Mining and Reclamation Association, Texas lignite coal mining and coal-fired electric power generation have an annual economic impact of more than $7 billion.
# # #
About Us
San Miguel Electric Cooperative, Inc. is a member-owned mining and power generation company that serves the people of Texas' rural communities, working and living in partnership with its members. Through integrity, hard work and a commitment to safety, San Miguel maintains a dependable power supply at the lowest possible and competitive cost. Visit http://www.smeci.net for more information.