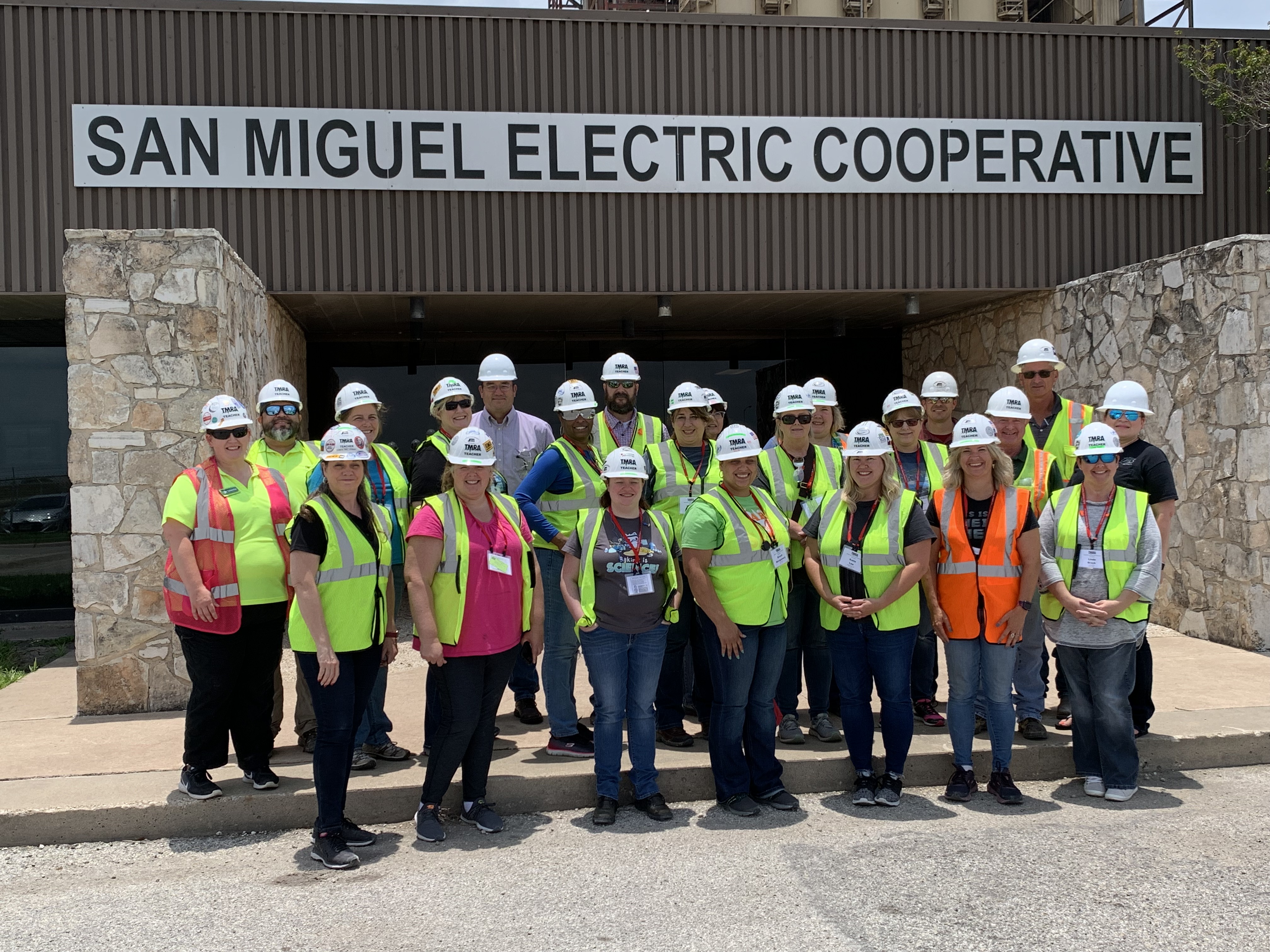 San Miguel Electric Cooperative, Inc. Hosts Award-winning TMRA Teacher Workshop Program,
Where Texas Science Teachers Learn First-hand About Texas Mining
What do Texas teachers do on their summers off? One option is to attend the Texas Mining & Reclamation Association's (TMRA) award-winning Teacher Workshop program, which 16 of them did from June 20 - 25 at the San Miguel Electric Cooperative, Inc. (SMEC) power plant and lignite mine.
There the elementary, middle/junior high and high school science teachers learned the true story of U.S. mining, in this case about lignite, a form of coal that is mined to provide power to feed the Texas energy grid. Located in Christine, Texas, SMEC's power plant and nearby lignite mine produce 391 net megawatts of affordable, reliable electricity for nine member cooperatives across 42 South Texas counties.
| | |
| --- | --- |
| TMRA's award-winning Teacher Workshop program provides teachers with science-based information on the availability, importance and development of natural resources, including lignite, uranium and industrial minerals. During these week-long sessions, which are free to teachers, educators tour mines and power plant facilities, visit reclamation areas and participate in hands-on labs. Teachers return to their classrooms with earth science facts and real-world, problem-solving activities that encourage students to use critical thinking skills. | |
| | |
| --- | --- |
| | During the San Miguel mine tour, SMEC Reclamation Supervisor Joe Harris showed the teachers the heavy equipment involved in the strip-mining process – called strip-mining because it is done in long strips – including the Marion 8200 Dragline. They also had the opportunity to collect coal samples from an active mining pit. Following the mine tour, SMEC Engineering Manager Eric Halfmann gave a bus tour around the power plant, explaining the various processes involved in producing energy from lignite coal. |
The teachers were also shown post-mine reclamation areas to learn about the reclamation processes SMEC uses to restore the land and return it to the landowners for the beneficial use of generations to come.
"We are honored that Texas teachers have opted to spend their time off to learn about how Texas generates its electrical power," said SMEC General Manager/CEO Nathan Brown, "including how SMEC uses its resources to provide safe, reliable power at the lowest possible cost to South Texans."
The SMEC workshop is one of four that TMRA is providing this summer, including one that is hosted by its sister organization, the Texas Aggregates & Concrete Association.
Through the TMRA Teacher Workshops, more than 1.5 million students so far have now heard the true story of Texas mining and reclamation. The program is recognized by the Governor's Conference on Math, Science and Technology, and is certified by the Texas Environmental Education Advisory Council. It is designated a professional development provider by the State Board of Education Certification.
# # #
About San Miguel Electric Cooperative
The San Miguel Electric Cooperative, Inc. is a member-owned mining and power generation cooperative that serves the people of Texas' rural communities, working and living in partnership with its members. Through integrity, hard work and a commitment to safety, San Miguel maintains a dependable power supply at the lowest possible and competitive cost. Visit San Miguel Electric Cooperative for more information.