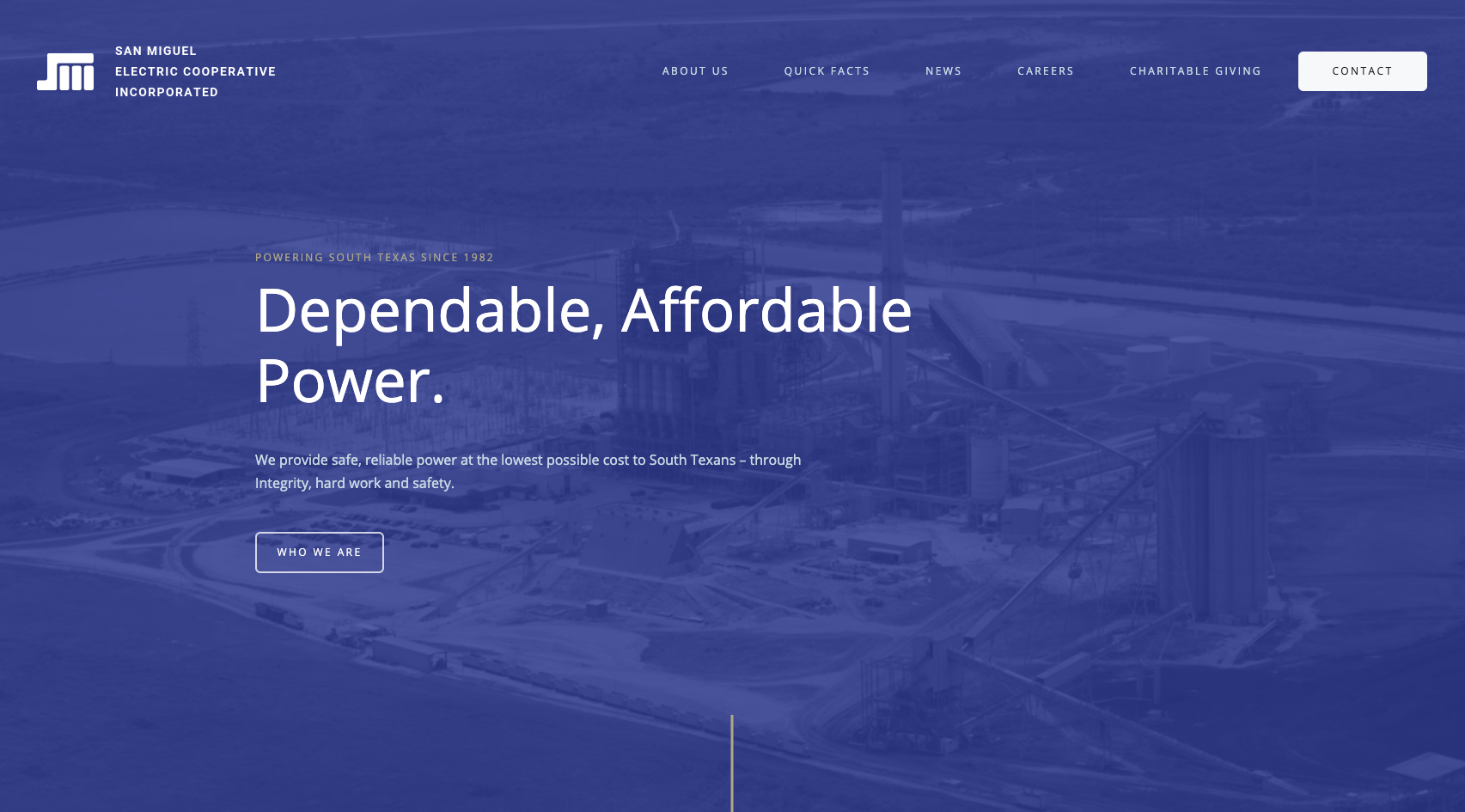 CHRISTINE, Texas [March 27, 2019] – San Miguel Electric Cooperative, Inc. (SMEC) announced today the official launch of its new website, which will serve as a resource for those interested in learning more about the cooperative, including its safety standards, emissions technology, stewardship efforts, economic impact and community giving programs.
"We understand that in an industry such as ours, educating the public is essential," said Mike Kezar, SMEC general manager. "Our hope is that people will take the time to familiarize themselves with the service and benefits that San Miguel's coal-fired power plant provides to South Texans."
The new website has a clean uncluttered design, improved functionality and enhanced rich content focused on San Miguel's more than 40-year commitment to providing power to South Texans. The new website goes live on March 27 and is located at the same address: www.smeci.net.
San Miguel Electric Cooperative's power plant and nearby lignite mine produce 391 megawatts of affordable, reliable electricity for nine member cooperatives across 42 South Texas counties. Created in 1977, San Miguel is a small, rural member-owned electric cooperative based in Christine, Texas, which provides a reliable source of power to hundreds of thousands of Texans, ensuring the stability of a well-functioning power grid and supporting the agricultural economy of South Texas.
###
About San Miguel Electric Cooperative San Miguel Electric Cooperative, Inc. is a member-owned mining and power generation company that serves the people of Texas' rural communities, working and living in partnership with its members. Through integrity, hard work and a commitment to safety, San Miguel maintains a dependable power supply at the lowest possible and competitive cost. Visit San Miguel Electric Cooperative for more information.