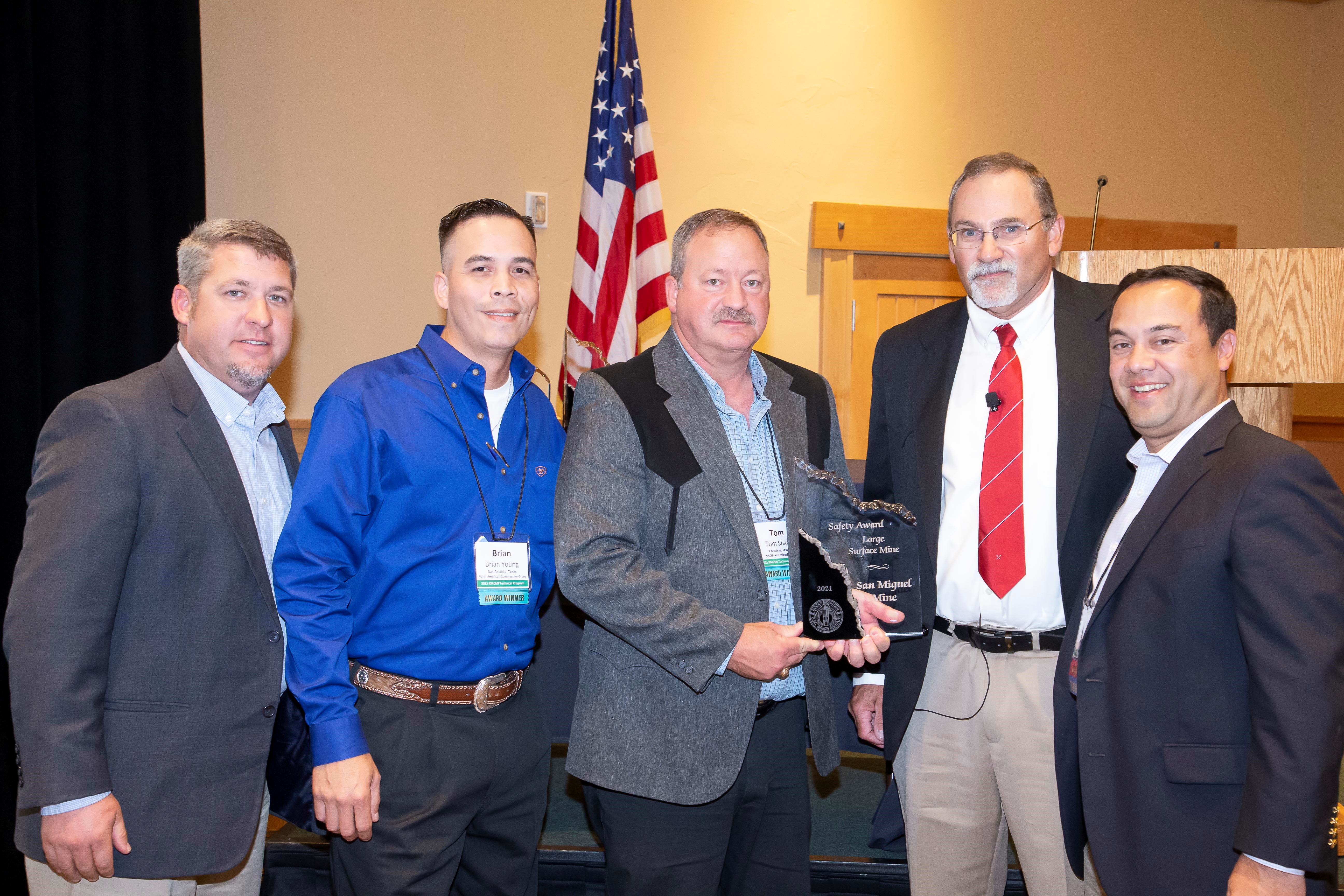 San Miguel Electric Cooperative Receives Prestigious Safety Award for
Outstanding Performance at its South Texas Lignite Mine
The San Miguel Electric Cooperative, Inc. (SMEC) has received a prestigious mining industry award for work at its lignite mine in Christine, Texas. The Rocky Mountain Coal Mining Institute (RMCMI) has presented SMEC with its 2021 Safety Award for Large Operator Surface Mine for its "outstanding and ongoing safety performance" during the 2020 calendar year.
"We are very pleased to be recognized by the Rocky Mountain Coal Mining Institute for our safety performance," said SMEC General Manager/CEO Nathan Brown. "This shows the true dedication and hard work of all the mine employees, who continuously strive to achieve the very highest safety levels as we provide reliable power at the lowest possible cost to South Texans."
The North American Construction Group Ltd. (NACG) operates SMEC's lignite mine, which provides fuel for its power plant that produces 391 megawatts of affordable, reliable electricity for nine member cooperatives across 42 South Texas counties.
"It is an honor to receive this award from RMCMI," said Mine Manager Tom Shaw. "I am proud of the San Miguel Mine employees and their outstanding safety performance. NACG and SMEC have a longstanding history of working safely, operating efficiently and looking out for each other, a core value of our organizations and employees."
The safety award winner is selected from among industry peers in the eight-state RMCMI region. To be eligible, mining operations are required to have been engaged in substantial production throughout 2020 without any fatalities. Companies are then compared using total incident rate data – non-fatal days lost (NFDL) and no days lost (NDL) rates – as reported to the Mine Safety and Health Administration (MSHA) for the calendar year.
The formal presentation of the RMCMI 2021 Annual Safety Awards was made at the association's 117th Anniversary Conference, which was held at the Steamboat Grand Hotel in Steamboat Springs, Colorado on June 28.
# # #
About San Miguel Electric Cooperative
The San Miguel Electric Cooperative, Inc. is a member-owned mining and power generation cooperative that serves the people of Texas' rural communities, working and living in partnership with its members. Through integrity, hard work and a commitment to safety, San Miguel maintains a dependable power supply at the lowest possible and competitive cost. Visit San Miguel Electric Cooperative for more information.